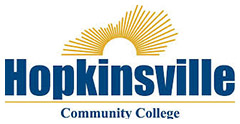 Hopkinsville, KY –
During Hopkinsville Community College's Spring 2022 Commencement ceremony, the college acknowledged students who were honored with special recognitions including the 2021-22 HCC Spirit Cup Winner and two KCTCS All-Academic Team awards.
Spirit Cup Winner
The Spirit Cup Outstanding Hopkinsville Community College Graduate Award, given by the Alpha Delta Chapter of Phi Theta Kappa, is presented annually at HCC's spring commencement ceremony. Hannah Zaborowsky of Clarksville, Tennessee was named the 2021-22 Spirit Cup honoree. She graduated with an associate of applied science (AAS) degree in nursing, and is among 321 HCC graduates in the Spring Class of 2022.



Two faculty members nominated Hannah. One of her professors stated in the nomination letter, "Hannah exemplifies what an HCC student should be. She has shown an eagerness to learn and grow as a nursing student throughout her time in the nursing program. Her drive to comprehend nursing concepts and apply those concepts is evident in her ability to excel in lecture, lab, and clinical practice.
Hannah's positive attitude is contagious and her patients, as well as other instructors and students appreciate her positive disposition. She exemplifies the attitude of great teamwork. Hannah goes above and beyond to assist her fellow students in lecture, lab and clinical. Teamwork is crucial in the world of nursing and Hannah exemplifies this daily."
Another nominator stated of Hannah, "I have watched her grow and flourish in the program. She excels in the classroom and clinical settings. She works hard to engage during class and keep her classmates uplifted. Her positive spirit encourages everyone around her. Hannah meets the outlined requirements for the Spirit Award. The remaining nursing course, Medical Surgical Nursing III, she currently holds this highest score in the class. I am so impressed with her initiative, skills and compassion for others."
Spirit Award Background

The local HCC chapter of the international honor society maintains a mission to recognize and encourage scholarship among two-year college students. Presentation of the Spirit award is a tradition that began at Bethel College and has continued at Hopkinsville Community College since 1967. The purpose of the award is to recognize the most outstanding graduate of HCC. Faculty and staff nominate students and a committee of faculty and staff chooses the recipient.
To be eligible for the Spirit Cup, the student must meet exacting criteria including, be graduating with an associate degree, be actively involved in the college, have at least a 3.0 GPA, have demonstrated leadership ability, and be positive and enthusiastic about HCC.
KCTCS All-Academic Team – Hopkinsville Students
This year marks the 21st year for the KCTCS All-Academic Team, which recognizes 32 of our System's most outstanding students from the 16 KCTCS institutions across the Commonwealth of Kentucky. The KCTCS All-Academic Team honors two students from each college – one student representing the transfer associates degree and another student pursuing a technical/occupational program associates degree. Faculty members nominate the students who are selected by a committee made up of faculty.