It's not uncommon for NRL teams to use the fullback in the defensive line when protecting their own try-line, even when they have 13 players on the field.
But it became imperative for Nicho Hynes, who moved to fullback to cover for Kennedy, to step up when the Warriors twice attacked inside the 30-meter area against 11 players. His position was like a swinging defender, rushing to either side of the ruck he sensed his side was short.
"It's almost like ghosting a defence to make them play a certain way. You give them looks where there isn't really that much space."

Blayke Brailey
"You've got to take a bit more of a risk with two extra players out," Brailey says. "I think those risks need to be calculated. It would be a step further than a position you'd normally be in.
"You have to get off the line a lot quicker than what you usually do to spook the defense and force them to go around you. It's almost like ghosting a defense to make them play a certain way. You give them looks where there isn't really that much space for the play."
Former Rabbitohs and Broncos coach Anthony Seibold watched the game on television and shook his head at how quickly the panicked Warriors kept flinging the ball wide with the Sharks missing Kennedy and Ramien.
"You think the space is out wide, but that's not where the space is," Seibold says. That's fool's gold. You should go through the middle to the defence and then that's when the ball-players can make their decision. The Sharks just had their wingers marginally set back, so if a team kicks, the wingers have a bit of a head start behind.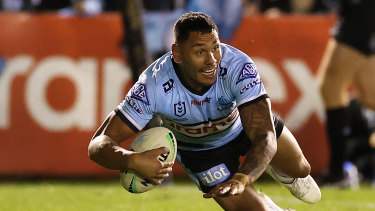 "But the Warriors were often shifting to a sideline, and that's the easiest place to defend when you've only got 11 or 12 because you don't have to make any decisions. The way the Warriors played against 11 or even 12 players was really poor."
Fitzgibbon's magic wasn't just on the field, it was also coming from the coaching box.
Within three minutes of Ramien leaving the field, he threw his most dependable forward Dale Finucane back on and made another change, replacing Andrew Fifita, who came up with a huge play diving on a loose ball shortly after they were down to 11, with Rudolf .
Under NRL rules, a team's blue shirt trainer is only allowed on the field three times per half to convey tactical messages. Cronulla's runner, assistant coach Daniel Holdsworth, went on the field twice in almost as many minutes once Ramien was sin-binned to provide guidance and encouragement.
His message was for the Sharks to continue throwing the ball around in attack, and testing the Warriors when almost every other coach would be thinking about a safety-first, hang-on-for-dear-life philosophy.
In fact, in the 10 minutes the Sharks were down to just 11 men they threw a staggering seven offloads and actually had more time in possession (six minutes to four) than their opponents. Hynes threw three offloads alone while Ramien was off the field.