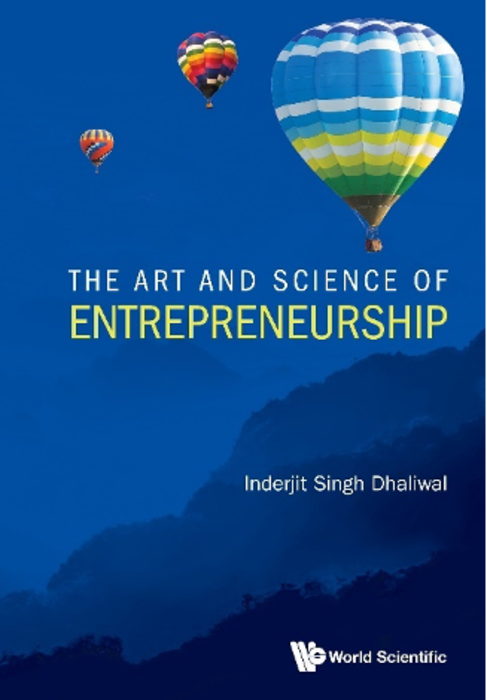 Entrepreneurs who are ready to start companies often lack enough knowledge and skills to do it correctly. How can they gain these? How can anyone, an aspiring entrepreneur, a leader, an employee, a policy maker, learn from history and experiences from successful entrepreneurs, for key events that shaped the past and businesses?
Former co-president of the World Entrepreneurship Forum and Professor of the Technopreneurship and Innovation Program at Nanyang Technological University (NTU), Singapore, Prof Inderjit Singh Dhaliwal, believes that entrepreneurship is more about having the right mindset than about starting companies; that anyone can think like an entrepreneur; and that an entrepreneurial mindset can solve any problems we may encounter in life. In his new book, The Art and Science of Entrepreneurshiphe addresses the problems that will allow anyone to learn how to think like an entrepreneur.
In the first section of the book, Prof Inderjit converts the most abstract aspects about how an entrepreneur thinks and does things into learnable theories of entrepreneurship, and integrates these with academic and real-life experiences and examples, so that the reader can easily relate to and understand entrepreneurial thinking in-depth. More importantly, he converts practice to theory by converting the practice of an entrepreneur to teachable theories. Included in the book are many real realhip and start-up entrepreneurs, experiences and examples of his own and of many successful entrepreneurs so that the reader can easily visualize the theory imparted, to make it easy for anyone who wants to think like an entrepreneur to learn. Any reader who reads the first section will be able to learn to think and work like an entrepreneur no matter what he or she does in life.
The second section of The Art and Science of Entrepreneurship addresses the "How to". Anyone ready to start a company, must understand all the intricacies, develop the right skill sets, and understand the entrepreneurial ecosystem that an entrepreneur must work with in order to create a successful start-up. In the section, Prof Inderjit Singh starts right from the beginning: the idea, then how to transform the idea into a business model, and finally converting the model into a business model. The section then brings the entrepreneurs all the way from starting a company to scaling up. A significant part of this section focuses on fund raising, one of the greatest challenges entrepreneurs face in their start-up journey. Based on his own experiences of raising funds as big as US$138million and also investing in and mentoring start-ups, the former Chairman GPC for Singapore's Finance and Trade & Industry Ministries shares how entrepreneurs can successfully raise funds at different stages of their company's growth . In all, this section imparts the necessary skillsets and knowledge on how to start and grow companies.
The third section of the book captures many lessons learned from the past. Even just within modern history, the world has gone through many cycles in terms of economic growths and collapses; Starting with the Great Depression of 1929, past recessions, and the dot.com bubble, all the way to the current economic disruption caused by the Covid-19 pandemic. Start-ups too go through cycles like economic cycles; There are good times, bad times, complex times, team issues and many more. Based on his experiences, the experiences of successful global, and history, Prof entrepreneurs Inderjit presents a series of lessons learned, and guidelines and skills that entrepreneurs, leaders, businessmen, policy makers and anyone involved in the whole innovation ecosystem can use to survive, stronger and create success in the face of any crises and challenges they may face.