Rasmus Dahlin didn't want to make the same mistake twice.
There were nights during his fourth NHL season when Dahlin texted Buffalo Sabres coach Don Granato asking to watch video.
When Dahlin wasn't happy about how he defended a one-on-one rush that led to a San Jose goal in early November, the 2018 first overall draft choice got on the ice early for practice multiple days to work through the exact scenario.
"He's probably the hardest working guy on our team, with (Kyle) Okposo up there, too," said Henri Jokiharju, who partnered with Dahlin on defense.
This was no different than Dahlin's previous three seasons in Buffalo. He was always putting in extra work before and after practices. But the reason behind that pursuit to be great was different under Granato and his coaching staff.
At 6-foot-6, Power is a rare package of size, nimble skating ability and strong hands. He's going to be on everybody's preseason Calder Trophy lists come fall.
Granato urged Dahlin to not worry about satisfying a coach or trying to live up to external expectations. Be yourself and use your instincts, Granato told his top defenseman. Unburdened from the fear of failure and the previous coach's philosophy that caused overthinking, Dahlin blossomed into a top player and leader for the Sabres.
Gone are the comparisons to Hall of Famer Nicklas Lidstrom or San Jose's Erik Karlsson. Dahlin, 22, showed the NHL that he has a one-of-a-kind combination of elite vision and skating, as well as an improved defensive game that allowed him to have success against top players.
"I guess it took a few years to understand that all the noise doesn't matter," Dahlin said. "So, yeah, this year I've barely used social media throughout the season. Small stuff like that helped me a lot. I mean, thanks to the coaches, too, that just let me do the mistakes and do all the wrongs to be able to get better. It's a little bit of everything, but especially thanks to those guys."
The change in Dahlin could be seen on and off the ice. He was no longer hesitating with and without the puck, a trend that negatively impacted his game when Ralph Krueger was coach. The remarkable plays were on display every night throughout the season, from end-to-end rushes to dynamic maneuvers to create space in the offensive zone. And he harnessed his fiery competitiveness to frustrate the league's best, most notably the Maple Leafs' Auston Matthews.
Pushing to add to a 4-2 lead at the Heritage Classic outside in Tim Hortons Field, Dahlin was defending the Sabers' net when he was viciously cross checked in the neck by Matthews, who was suspended two games for the infraction.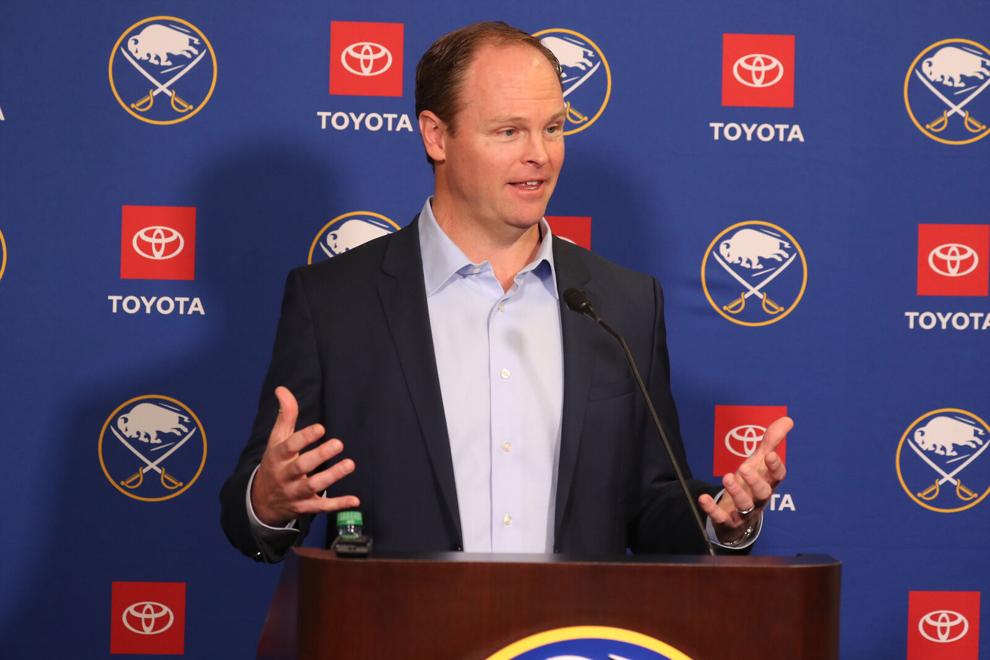 Adams said you're always building a team, and coach Don Granato pointed out the only truly rebuilt team is the one that wins the Stanley Cup. Sobering to ponder, Harrington says.
"If you're looking at individual growth and you're not mentioning Rasmus Dahlin, I think it's folly," Okposo said. "He took some steps this year, some giant ones. Just the way he figured out how to play on both sides of the puck this year. I think his defensive game was what gave him so much offensively.