Maroon said on air he'd asked them repeatedly to stop that line of conversation and revealed he had complained to management about it. We contacted the previous head of football at Triple M,
Brad McNamara
and the current one,
Ewan Giles
, to get clarity on that. We were directed to Triple M head of PR
Janna Hocking
who referred us to a generic statement issued by the network.
This column has reached out to all mentioned but there's been no comment. Hooper and Kent were contacted but offered no comment. Kent is not expected to join Hooper in apologising to Maroon. It's understood he has been more concerned about Hooper's wellbeing.
There have been suggestions that Hooper would take a break from his role. That was denied by the station when I put that to them. Hooper has been targeted by his own organisation, News Corp, who has laid much of the blame at his feet.
That's quite remarkable, given he and Kent went at Maroon with equal delight. Hooper and Kent failed to read the room equally. They even continued to bag Maroon after his walk-out, thinking it was a joke.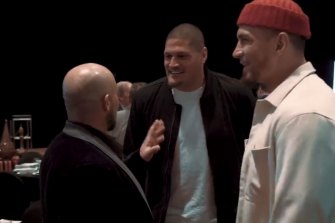 Bulldogs furious at NRL's Iftar snubbing
The Bulldogs are privately fuming that the NRL snubbed their inaugural Iftar dinner last weekend and say league has fallen miles behind the AFL when it comes to supporting the Muslim community.
The Dogs spent two months planning the Iftar dinner – the evening meal taken to break the daily fast in the Islamic holy month of Ramadan – which was held after the win over the Roosters at Accor Stadium. Hazem El Masri and his wife, and Bulldogs community manager Fayssal Saridid much of the hard work behind the scenes.
The Dogs say that they extended invitations to the game's leaders, including NRL officials. Their absence was taken personally by the organization and the organisers.
Bulldogs officials have told me the AFL have helped fund a similar dinner hosted by the GWS Giants for the past seven years in a sign of how importantly they view the event and the Muslim community.
El Masri was diplomatic when approached for comment about the snub. "I'll say it like this," he said. "I don't want to focus on who was not there. We were hoping the game's bosses, or anyone from the NRL would be there, and we extended invitations to them.
"We are hoping that they will find time for it next year because we were very proud of what we delivered. It's not an Arabic or Muslim thing, in my my eyes.
"This was a community event. It was a way of breaking bread and making everyone welcome. We had people from all faiths there, and we want to do this to showcase the Bulldogs as an inclusive club.
"The NRL have their multicultural rounds and they are all about inclusion in those kinds of things … well, this is it in action. This is reality and are proud of it."